WM @ Art Westport 2018
The summer tour has come to an end in KC with Art Westport. It has been a blessed summer and I couldn't think of a better way to wrap it up. This is my second year as an exhibiting artist of the show (first place, our first year...ayyye), but this year went a bit differently than planned.
Midwest weather...we never what season we will get when we wake up, right? Well, it rained all day Friday. From setup to closing time. Not a gentle mist but a steady pour. Can you imagine setting up a 10 x 10 tent and keeping clothes dry in the rain? Ugh, honey no need to imagine because we did it.
Because of the rain, Friday was slow and cold but still decent for traffic. Y'all showed up and showed out Saturday, and I can't thank you enough. A lot of family, friends, past clients, visitors who remembered me from last years show and more stopped by to visit WM…I even saw my kindergarten-2nd grade teacher!
I had a lot of fun with this years display. I'm super obsessed with visuals and am always wanting to improve. This year, the grid walls and new mannequins we're a great addition to heighten display, use of space & shopper experience. I think the lamp was my favorite touch. The signage + painted acrylic stands worked well. I put up fit guides, my bio, artist statement, social info and posters of my girls around the space. This really helped answer questions for guests if I was busy with anyone else. I used pattern vinyl banners from the ArkhiMODIste show to cover the walls with color and string lantern lights to add soft lighting. Next year, I want to play with color lighting, color for the outside tent panels and activating the floor more. I normally have a painted panel on the ground at pop-ups but the rain deterred me from that choice this year.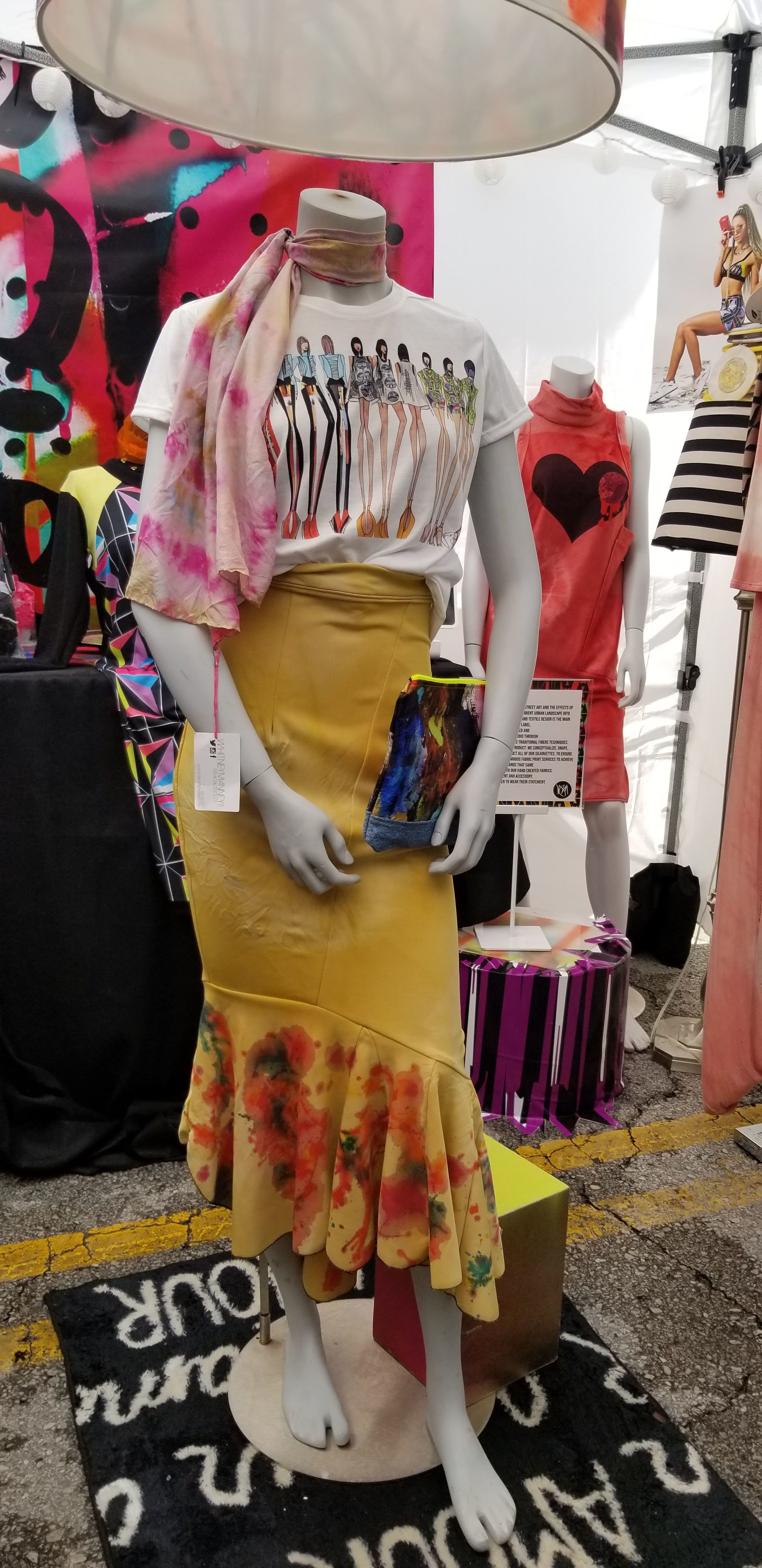 I completely sold out of tees, clutches, one of one pieces and introduced new work. I've been working on a new pattern collection that I hope to flesh out a bit more, it comes from a really personal place so I want to see the narrative all the way through.
Art Westport was the winning moment I needed to close out the summer of shows. Business wise, we hit last year's mark + a bit more, which is amazing considering the weather. My calendar is filled with new client consultations, I'm ready to get studio fully reset and back to work.