Community: Chosen Family with Good Company Magazine
I'm still in awe of Wednesday night's discussion. Being on stage with like minded women from varying backgrounds and goals that have a common interest of building something bigger than "self" was energizing.
Listening to everyone's perspective almost had me feeling like a fraud! How could I possibly think of myself as doing the hard yards for community as a fashion designer?! Listen ya'll, I'm still learning to listen to and value my own story. As we got to know each other over dinner, that fraud fear exited stage left and the relatability of everyone's story took over.
So, how did I end up apart of this conversation? Quite simple, Grace Bonney put out a call for women & non-binary creatives/business people and I simply nominated myself via Twitter along with a few of my fave women led businesses and artists. It's 2018...we gotta learn to hype ourselves up, 'cause no one else will do it like you can!
The notion of Grace extending her voice & influence past Design*Sponge (avid reader since college) to develop Good Company is pretty genius. It almost serves as a guidebook to be inspired, recharged, analyze our efforts and find who we need in this world.

Grace's opening question for the group basically asked us what is community mean to you, when were you first aware of it and what communities do you identify with? This can be a hard question for a black girl in today's world. Depending on who it's coming from, that question can turn into a setup real quick. Everyone was really open and specific about who their communities are and that felt genuine to me.

In short, to me community is the family you get to choose. You find common concerns, strengths, grievances and use what power you have in solidarity to shake the table. I am in the community of women of color, specifically black women, artists creating wearable art, black female identifying artists, and black artists striving for visibility in the Midwest.
 
We covered things from business woes, the world of social media, how does our creativity further the movement, going for what we deserve and our personal definition of our success.
I love how Grace D.C. worded that beyond the pretty factor of her work, the wreaths are her way of mourning the effects of patriarchal BS . Listening to Rebekah be open about the oversight of the disabled community really opened my heart to the lack of accessibility of common sense things but the accessibility that social media brings to connect the members of the disabled community. Connie came in truthfully with the realities of being a brown artist that has to consistently ask for "permission" from people who could care less about the cultural importance of her position and work. Jen is really doing something amazing with the creation of American Daughters. I had a chance to work with the organization but hearing about how important, viral and empowering AD is for high school girls of color was moving.
So, how does WM keep community a priority? WM was born out of problem solving my personal hang ups. Processing that what the majority of my environments felt about me, my looks, my "type" is none of my business but taking control of my own narrative is important to me. I want to empower myself. I want that to translate into work and a culture that empowers women to wear their statement. The success comes when I recognize my ability when I'm excited to get to studio, scribble down my thoughts, make something from scraps and be in awe. That decision making is deliberate and needed when anxiety can strip you of your power in an instant. Recognizing that I have the privilege of being apart of so many circles in this city but not being afraid to put up a challenge and find my lane of fostering support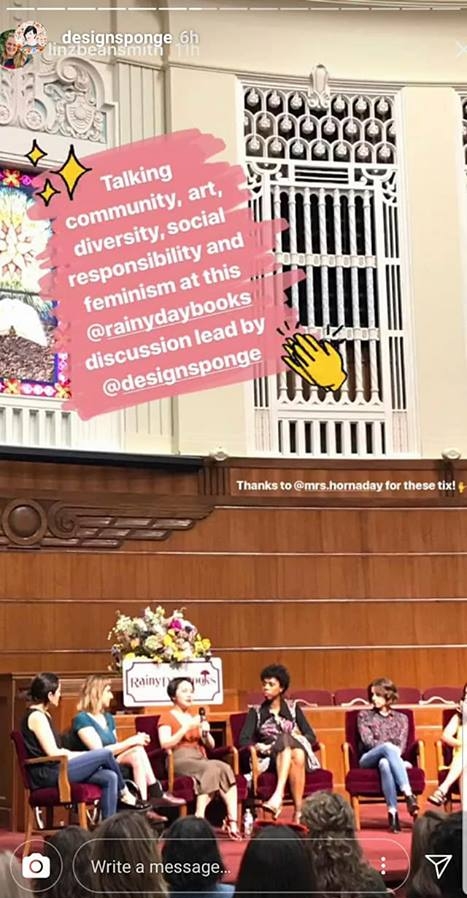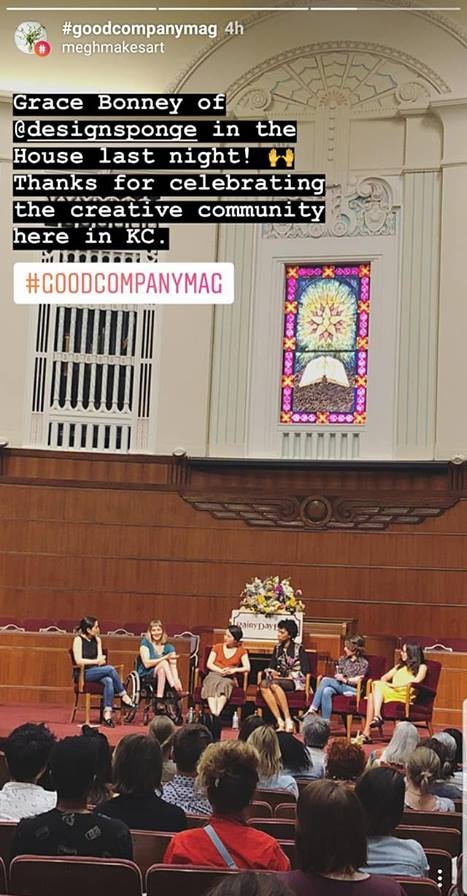 Images courtesy of @estacy_p @alyissaj @lolaandfinnpaperie @lizbeansmith @abyss_chic @meghmakesart @thehairparlourkc @kansasgirlvintage
The reward comes when I'm walking around, shopping, embodying my true self and hearing a little girl walking by that was more than likely in one of my classes or workshops, tell her mom "Oh mama, that's that girl that makes her clothes!" Her excitement was palpable at that moment. That's the reward that reminds you, you're on track.

I cannot thank Grace enough for facilitating such a beautiful moment. I love that she recognizes the creative movement that this little big city has to offer. I encourage every woman who has the privilege of ownership, board positions, influence, economics, race, etc. within the creative realm in KC to pick up a copy of Good Company and really question your actions, ask yourself are you really doing enough for voices to be heard and spaces to be inclusive. Use those positions wisely! I also hope that my fellow black artists and influencers keep honing your creative talent, kick fear of rejection to the side and show up to the party demanding our hard earned respect.

I was asked on Instagram, how can we keep the conversation going. Wednesday night should not be a pit stop, instead, the conversation should ignite us to not be afraid of reaching out to those who are striving for similar goals, start small with conversation and build those networks. Keeping in touch and not being afraid to say "Hey, I'm struggling with something right now." Recognizing what areas we have a prominent voice, getting know other people in different backgrounds and being selfless in our power.