#MyHistory: James Daugherty
Celebrate. Inform. Embrace. Grow
#BHM is here and my favorite part of our culture is the amount of creation that we have given birth to. Studying the art and fashion history of African-Americans is so important because let's be real...we been done that! We started the wave, we created the trend and the demand. So many artists have been overlooked and forgotten but for me it's important to balance my traditional art history education with the self explorations of those who look like me.

First up in this year's #MyHistory series is James Daugherty.
A quick Google search looking for more info on Black costume designers, the obvious results for Ruth E. Carter and Sharen Davis immediately loaded but I noticed a name that I hadn't before. Putting James Daugherty's name into the search bar yielded a few results but seeing those initial images were absolutely breathtaking. Digging deeper for more info was kind of hard and disappointing, not on Daugherty's part but the lack of documented archives. This is not an unfamiliar story, for example finding more on the history of my absolute fave Patrick Kelly is almost impossible. The archives of Ebony and JET Magazine are filled with their work among other black designers and I wish I could snatch up every vintage copy and give black fashion the history book it deserves...may be my next calling. However, strides are being made. FIT NYC curated the Black Fashion Designers Exhibition that featured many of our most important unsung heroes. I'm excited about what this year's series of #MyHistory will bring so let's get started...
Sources:
http://blog.fitnyc.edu/precollegeprograms/2012/05/25/instructor-spotlight-james-daugherty/

http://blog.fitnyc.edu/huetoo/2013/06/

https://www.etsy.com/listing/538421272/50s60s-vintage-james-daugherty-dress?ref=shop_home_feat_3

http://thelafashion.com/2016/10/14/artistic-expression-fashion-style-james-daugherty/

Norment, Lynn "How To Increase Your Sex Appeal" Ebony Magazine June 1978: 122. Print
A graduate of Chouinard Art Institute's Theatrical Design program, James Daugherty got his start in fashion as a sketch artist work for famed Golden Age Hollywood costume designer Edith Head. Prior to this, it is rumored that prior to his start he worked as a janitor at the Warner Brothers Studios and would drop sketches off on the desks of movie executives. Daugherty stayed active as a sketch/design assistant during a (grand) time when studio lots designed and constructed costumes in house. His sketch work has been attributed to the likes of I Love Lucy, The Ten Commandments and with designer Jean Louis on Joan Crawford movies like Queen Bee.

What an amazing way to start your career in art and fashion! I'm always envious of the fluidity and realistic life features that well trained fashion illustrators are able to incorporate into their work. I have a very flat, semi animated way of drawing possibly because I'm thinking about the pattern drafting process. Daugherty's work is no exception. The amount of attitude that exudes from the pieces is absolutely insane. After studying them for a while and taking in detail, it feels like the women should start walking across the paper. The facial features are absolutely stunning and so many of the sketches include ethnically appropriate faces which is so major. While working for I Love Lucy, Daugherty is quoted as saying "We had to design things that framed the face, that's why today I like sketching faces. The face comes first."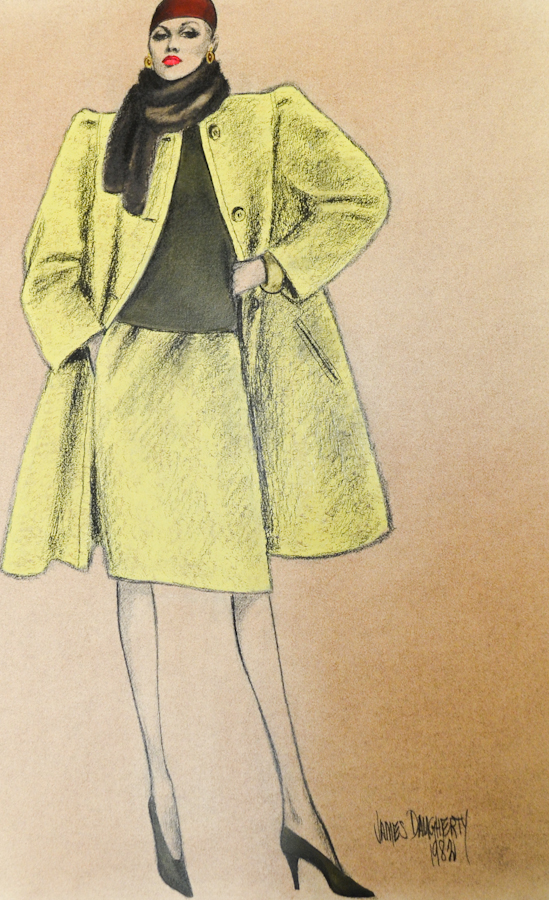 As the Hollywood studios began to shutter their costume departments, the sketch artists and designers headed to the east coast to work for established ready to wear designers.

Daugherty has been credited to work for Bill Blass, James Galanos, and (a serious fave) Rudi Gernreich.

Looking at actual photos of Daugherty's work, there's a mood of lightness. Between the airy fabrics and skilled draping, movement is stitched into each piece with light structure. The James Daugherty label, in collaboration with fashion financing mogul Ben Shaw, was available at retailers like Bloomingdales and Saks. September 1974, Daugherty opened his own fashion house on the famed Seventh Avenue. He is quoted as considering himself the "Jackie Robinson of Seventh Avenue" . He was also a major player in the iconic Fashion Fair Shows organized and curated by Eunice Johnson.
James Daugherty went on to teach design courses at FIT as an adjunct professor for special programs, what an experience it would have been to learn from him!

What a life Daugherty lived. Like I said earlier, I wish more of my arts education included designers like him...they truly were the foundation that black designers today stand on. Stay tuned all month for more #MyHistory discoveries and check out our Tumblr for visual inspo.