History, Spray Paint & 24K Magic
The moment I've been waiting for since May finally arrived: Me and Bruno Mars, plus a few thousand other people in attendance. I ended up seeing the acclaimed 24K Magic Tour in Tulsa, OK. Of all the cities on the extended tour, Tulsa didn't sell out within five minutes plus only having to make a four hour drive from KC made the choice simple.
I've never been to Tulsa, I've driven through Tulsa but never stayed long enough to check out the city. I didn't expect too much to happen but had a day to explore. The similarities to KC and Tulsa are pretty strong, but it seems a smidge bigger. Highlights of exploring were visiting the historic Greenwood District/Black Wall Street, randomly finding the Habit Mural Fest and visiting the city's new state of the art park The Gathering Place.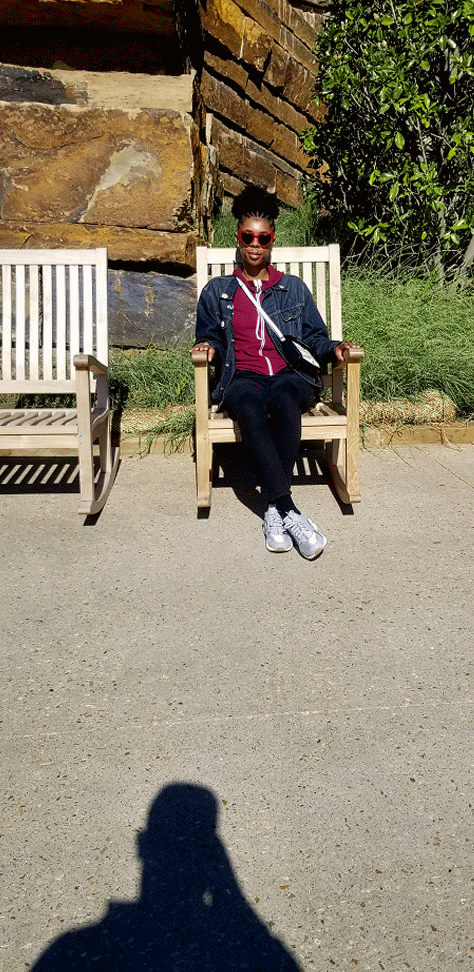 I decided to make my look to wear to the concert, I finished it a few hours before hitting the road…what else would you expect from me! Lately it seems like the times I cram to make myself something to wear, I'm incredibly inspired (we'll talk more on this in a later blog post). I generally try to make myself things out of my scrap basket to keep from depleting studio inventory. One of my studio mates gave me a few yards of upholstery leather-like vinyl that I knew I could easily make a skirt out of. I initially started with the vinyl only but it needed something extra. Getting the heavy vinyl to relax into something wearable was a job within itself, so I decided to do a facing instead of a regular waistband.
A bit of digging around I found a remnant of leopard print scuba knit fabric I picked up during an emergency broken needle run to Jo-Ann's. I'm not sure I remember what led me to cutting the vinyl panels the way I did but I do love playing with lines. I added the leopard print as a geometric pop at the waist and finished the skirt with a metal separating zipper. I initially had plans to make a bodysuit out of the rainbow stripe knit but ended up doing a top, by this time I barely had an hour left. I love working with stripes! One of the easiest patterns to manipulate and mix up. The mock neck ties in the back with a keyhole to avoid needing any fasteners.
Ya'll, I don't think you understand how hype I was for this show and I did not leave disappointed. Tour merch was dope , I got a tour tee and some bamboos that have 'Chunky' in the middle…it's my favorite song off the 24K Magic album, so relatable haha. Ella Mai was the opener, I got my life to Boo'd Up and Trip a few times. I loved everything about Bruno's set. The set design was vibrant, loved all of the Cross Colours looks, The Hooligan's, Bruno's dance moves and of course the music.